12 Mobile Game Forums for Game Devs and Marketers
by Game Marketing Genie, on 09-May-2022 21:36:42
Game development can be very tricky, especially if you are doing it for the first time and don't know where to look for information. There are heaps of engines you can use to build your game, dozens of frameworks, a ton of libraries, and so many programming languages. But where do you even start?
There's also the issue of consumer needs and the mobile game trends you need to follow to ensure your game is a hit with players. Instead of sifting mindlessly through pages of documentation to know how best to structure your game, it would be easier if more experienced peers would give you pointers on what to do. Mobile game forums for game devs fulfill this role by helping you get in touch with fellow developers who will give you useful tips based on their experience in the industry.
This article shares the best forums you can to discuss mobile games and gather valuable feedback that will help you improve your creation.
Recommended mobile game forums for marketers and developers
Here are the forums you need to join to build mobile game communities with other people who are as passionate about game development as you are.
1. Toucharcade
Figure 1: TouchArcade sub-forums. Source: TouchArcade
TouchArcade is one of the largest iOS gaming forums for iPhone and iPod touch gaming. The forum has two main sub-forums; the Public Game Developers Forum and the Developer Services and Trade forum.
In the public developer forum, you can introduce your game and show people what you are working on. Other developers will chime in and comment about your progress. They will even give valuable input that will help you improve your game before launch.
The developer services and trade forum is quite useful if you are looking for resources to build your game. You can ask for suggestions for your game's visuals and even get creatives to help you develop your game assets.
TouchArcarde's UI is very simple and easy to navigate. The sub-forums are color-corded to make it easy for you to locate them when you land on the platform.
2. Android Central
As the name suggests, Android Central is one of the Android gaming forums for Android developers. Because of its massive collection of communities and topics, the forum can be somehow overwhelming to a new user. Besides the typical forums for developers, Android Central has sub-forums for specific phone models. For example, you can join sub-forums for Samsung, Huawei, Pixel Games, and more.
Figure 2: Android Central sub-forums. Source: Android Central
So, as a developer for Android games, this forum will have all the answers you are looking for to improve your mobile game marketing. Join the forums that are dedicated to your game and learn as much as you can from other game devs, marketers, and enthusiasts.
3. Unity
Unity, a game engine, has an online forum dedicated to mobile game marketing and growth topics. The forum is divided into 4 sub-forums:
Unity Ads & User Acquisition
Distribution Portal (UDP)
Unity IAP
Unity Mediation
In the Unity Ads and Acquisitions sub-forum, you will find people asking for advice on their campaigns and other marketing issues. The Distribution Portal allows users to discuss Unity's solution for international mobile game publishing while the IAP forum covers topics like Unity's in-app purchase system.
The forum is easy to navigate and the UI has been adjusted to suit the developer's demand for simplicity and ease of use.
4. Buildbox
Figure 3: Buildbox sub-forums. Source: Buildbox
Buildbox is one of the best mobile game forums you can join to connect with devs and game marketers. The forum covers a variety of topics ranging from game development to monetization and marketing. The monetization sub-forum has four topics, namely;
Advertising
In-App Purchasing
Game Marketing
Promotional
In these subforums, users ask all kinds of questions relating to IAP and other game monetization strategies. The Promotional sub-forum offers tips on how to best promote a mobile game to players. You will even get people offering their services to help you reach your target users effectively.
5. AppFutura
AppFutura is an incredible game forum for mobile developers. The forum has sub-forums for iOS and Android developers, cross-platform developers, and blockchain game devs. AppFutura's communities are easy to navigate and the platform's ad-free format greatly enhances the browsing experience.
One of the impressive features of this forum is the Top App Development Companies topic. This topic discusses the best mobile games in each category. You can click on a particular company to learn more about its game marketing strategy.
6. Gamedev.net
Gamedev.net is the best mobile game forum to join if you are a cross-platform developer. The forum brings together developers of all types of games who share helpful advice on how to build for different platforms.
The main feature of this forum is the beginner section that helps young devs navigate the challenging world of mobile game development. In this section, developers can ask any question, no matter how simple it is, and get all the answers they need.
7. The Game Creators
Figure 4: The Game Creators sub-forums. Source: The Game Creators
The Game Creators is an online game forum that focuses mainly on the AppGameKit engine. However, there are other topics that could be of interest to any mobile game developer such as the Music & Sounds FX topic that will help you decide which sounds to include in your mobile game.
The other interesting topic in the forum is the Work in Progress topic that includes developers who are still working on their games. In this sub-forum, developers usually create threads to show their work and ask for feedback from other users.
8. StackExchange GameDev Forum
The StackExchange is a website that helps developers get answers to their programming dilemmas, but they have also created a game development forum to help developers discuss the important issues in their industry. The forum is slightly different from other mobile game forums in that users can search through the sub forums using tags.
The platform is ideal for developers that want to discuss development issues and get quick answers to their questions. For example, Android developers can discuss java issues, 3D art, group scriptwriting, and texture in the Android Game Development forum.
9. Indiegamer.com Game Development Forum
Figure 5: Indiegamer.com sub-forums. Source: Indiegamer.com Game Development Forum
Indiegamer.com has a game development forum for indie developers out there. If you are an indie developer, you should check the forum out to meet and interact with others. You can share what you are working on on the platform and receive valuable feedback from other developers.
Aside from getting feedback when you post a question, the other valuable feature of this forum is the Indie Classified sub-forum. In this forum, you can find music, art, and sound portfolios to use in your project. The forum also welcomes independent artists, composers, and writers that can help you with your game. The platform has no ads and the UI is user-friendly.
10. r/gamedev
We cannot talk about mobile game forums without mentioning Reddit and its gaming-related subreddits. r/gamedev is one of the prominent online communities that discuss the issues concerning game development. Within the subreddit, members raise issues and get feedback from other devs on a wide range of issues such as game design, marketing, art, music, and business.
The forum is also a great place to have casual discussions with other members and make friends. Through these social conversations, you will learn the latest trends in mobile development that you will use to modify your game to suit the needs of modern consumers.
11. [H]ard Mobile Game Forum
Figure 6: [H]ard Forum sub-forums. Source: [H]ard Forum
[H]ard forum is an online game forum you can join for casual conversations with other mobile game lovers. In the mobile game community, members discuss their favorite games, the problems they face, or ask for recommendations. As a developer, you can join these discussions to help users with their problems and recommend your game. These discussions will also help you learn what players want to see in their games and use the information to make your game appealing.
12. Apple's Official Developer Forum
iOS developers can join the official Apple developer forum to get game development advice for iOS. The forum doesn't have the standard layout of most mobile game forums, with Apple opting to showcase the questions asked by users. For you to answer a question on the forum, you need to have an Apple ID. Furthermore, users have the option to search using keywords or tags when looking for relevant topics.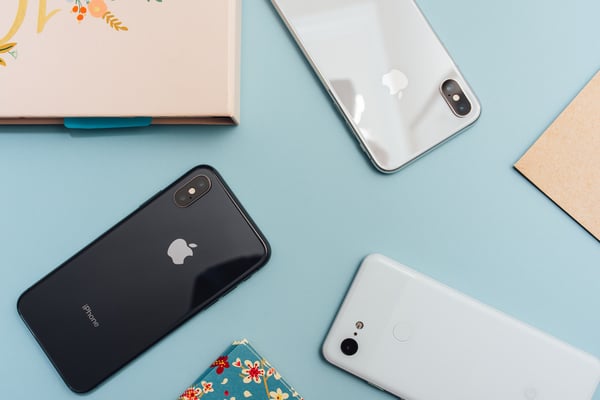 The magic of mobile game marketing
Sure, we might have pointed you on the right path, but there's lots more to learn. Get all our mobile game tips in Mobile Game Marketing: Your Complete Guide to Success.
---
Game development can be challenging when you don't have any clue where to get valuable information. Mobile game forums will help you connect with other developers who will give you valuable tips that will help you improve your game to meet the needs of players. You will also meet artists, composers, and other professionals who will help you design impressive game assets.
At Game Marketing Genie, we are here to make you market your game effectively and reach the right users. We are recognized as a leading game marketing agency and can help you achieve all your goals in a short time.
Click here to learn more about our work and what we can do for you.