VR Game Marketing: The Complete Guide to Promoting Your VR Game
by Game Marketing Genie, on 25-May-2023 11:29:44
Step into the future of gaming with virtual reality (VR) as it revolutionizes the gaming industry. Brace yourself for some jaw-dropping stats, as Finances Online predicts VR gaming revenues will skyrocket to $2.4 billion by 2024. As the VR market grows, so does the competition. Are you ready to take on the challenge and dive headfirst into the immersive world of VR gaming?
However, entering the VR gaming market can be challenging due to the high development costs and the technology's limited reach. Therefore, VR game developers must invest in effective marketing strategies to attract attention to their games and stand out in a crowded market.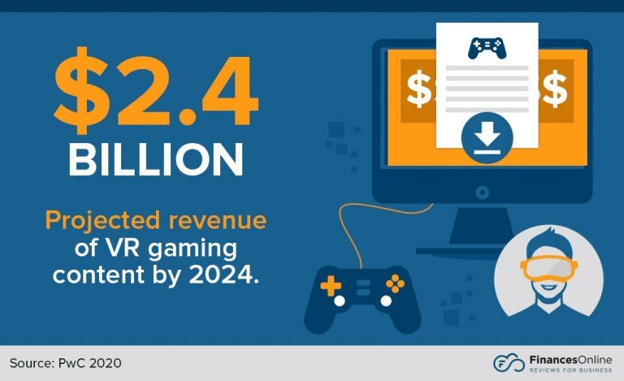 Figure 1: VR gaming's growth predictions. Source: Finances Online
The starting point: having a decent game (or concept)
Developing a VR game is a challenging process that requires significant effort and resources. However, before beginning to market the game, it is crucial to have a solid foundation. In other words, having a decent game or concept is the anchor for any successful marketing campaign.
You must ensure you have a game that is well planned out and developed. Also, you will need a proof of concept or a prototype available to showcase its potential. Marketing efforts may fall short without a clear and concrete vision for the game. Attracting an audience or generating interest in the game could be challenging. Therefore, investing time and effort into developing a high-quality game is the first step toward successful VR game marketing.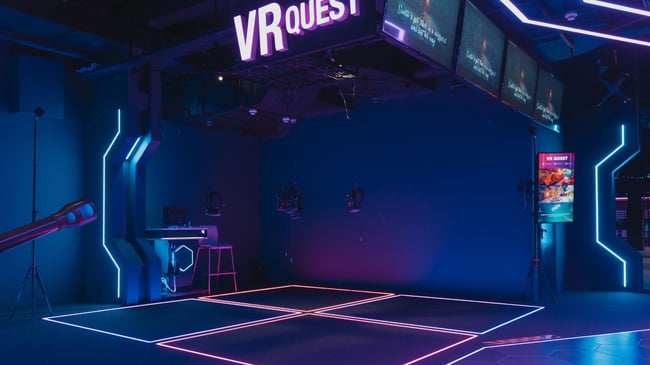 Building the right store page
Building a store page for a VR game is a critical step in the marketing process. A store page must include all the right elements, such as screenshots, descriptions, and a well-designed layout. The screenshots should showcase the game's unique features and mechanics while highlighting the graphics and visual effects. The description should be concise yet informative, outlining the game's key features and benefits. Further, it should be optimized for search engine optimization (SEO) to attract more potential players.
One of the most critical aspects of building a store page is to have a demo available. This is key because still images and videos can't portray VR games effectively. VR games are an immersive experience that cannot be fully captured in videos or pictures. Players can try out the game and experience it in its full VR glory by providing a demo. This can significantly increase the chances of players purchasing the game, giving them a better idea of what to expect.
Pro tip: Remember to optimize your game's store page for different devices, such as desktops, laptops, and mobile devices. The layout should be user-friendly and easy to navigate, ensuring players can quickly find the information they need.
Read our quick guide on How to Create a Steam Page for Your Video Game That Sells and create a page that converts into players! This guide will help you build a decent page regardless of what platform it's on.
Get your VR game marketing arsenal set up
Setting up all the necessary assets and resources, such as social media pages and marketing budget, is crucial to promote a VR game effectively. Given the unique challenges in marketing VR games, having a solid online presence and dedicated resources can help increase visibility, generate buzz, and reach a wider audience.
Below are some things you will want to keep handy for your virtual reality game marketing:
1. Have a press kit ready
Creating a buzz around your VR game is crucial, and a well-put-together press kit can make all the difference. It's a powerful tool that includes essential information, stunning visuals, and eye-catching graphics that grab the attention of gaming celebs, influencers, and journalists. When you have a top-notch press kit ready and waiting, you'll be able to save time and create more opportunities to get your game in the spotlight.
2. Have your social media pages set up
Social media pages are a powerful marketing tool for any game developer. Setting up pages on social media platforms such as Facebook, Twitter, and Instagram can help build an online presence for the game and engage potential players. Social media is also a great way to share news, updates, and teasers about the game and build a community of fans.
3. Have assets available
Assets such as screenshots, videos, and other media available can make creating content for social media and other marketing channels easier. This can include concept art, gameplay footage, a demo (as mentioned earlier), and other promotional materials.
4. Make a content calendar
Creating a content calendar is an excellent way to plan social media posts, blog posts, and other content related to the game. This helps to ensure that the marketing efforts are consistent and that content is posted regularly. Keeping content fresh, engaging, and relevant to the audience is essential.
5. Plan out your marketing budget
Planning out the marketing budget is another critical step, even for developers trying to bootstrap their VR gaming business. While it may be tempting to try and save as much money as possible, allocating a budget brings faster results. This could include paid ads, influencer marketing, and other promotional activities. Eventually, you will want to invest in marketing channels likely to have the most significant impact on reaching your target audience.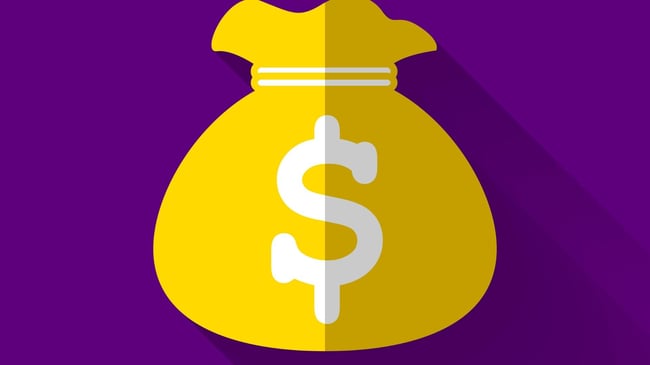 Choosing the right marketing tactics
Adopting the right marketing tactics is crucial to make your VR game a hit. Here are five highly effective and proven tactics to market a VR game:
1. Paid ads
Paid ads can be a powerful tool in any game marketing strategy, but it's essential to approach them strategically. Before you start running ads, it's crucial to have a clear understanding of your target audience and their preferences. Platforms like Facebook and Google offer advanced targeting options allowing you to narrow down your audience based on age, location, interests, and more.
It's essential to have compelling ad creative that captures the attention of potential players to make the most of your paid ads. For VR games, video ads can be particularly effective in showcasing the game's immersive experience. Ensure your ad creative aligns with your game's branding and messaging to ensure consistency across all channels.
Setting a budget and tracking performance is vital to ensure a positive ROI. Start with a modest budget and test different ad formats and targeting options to see what works best. Monitor key metrics like your:
Click-through rate (CTR)
Cost per click (CPC)
Conversion rate to optimize your campaigns and maximize ROI

2. Social media marketing
Online platforms can be a powerful tool for VR game developers to build a community and create hype around their games.
For example, the VR game "Beat Saber" has effectively used social media to promote its game and connect with its audience of almost 100K. They regularly share videos of players and celebrities playing their game on platforms like Twitter and Instagram, which generates excitement and buzz around the game. They also use hashtags like #BeatSaber and #VRGaming to increase visibility and encourage user-generated content. By utilizing social media creatively and engagingly, Beat Saber has grown a loyal fanbase and become one of the most popular VR games on the market.
To follow in their footsteps, VR game developers can experiment with different types of content and interact with their followers to build a robust online presence and generate buzz for their game.
Figure 2: Screenshot of the VR game Beat Saber's IG page. Source: Beat Saber on Instagram
3. Email marketing
Marketing emails can be an effective way for VR game developers to keep in touch with their audience and promote their games. Start building a subscriber list and send regular updates. You can also provide exclusive content, share new features, and drive sales via emails. Ensuring your emails are engaging, personalized, and relevant to your audience is crucial.
Pro tip: Automate your email campaigns using tools like Mailchimp or ConvertKit.
Setting up an automated welcome series or drip campaign saves time and provides valuable content to your subscribers. Additionally, offering a special incentive or discount for signing up can help grow your subscriber list and drive more sales for your VR game.
4. Landing page
These can be valuable tools for converting website visitors into paying customers. To create an effective landing page for your VR game, you should focus on delivering a clear and concise message, utilizing eye-catching visuals, and crafting a strong call to action. Consider offering a demo or free trial to entice visitors and increase the likelihood of a purchase. Optimizing your landing pages for search engines can help increase visibility and drive more traffic to your page.
Moreover, landing pages can capture leads and grow your subscriber list for email marketing campaigns.
Creating landing pages that convert is nothing short of art! Learn how to make them quickly with our simple guide: The Art of a Video Landing Page for Game Marketing.
5. Influencers
Influencers can be a valuable resource in promoting your game and reaching a wider audience if you are a new entrant in the VR gaming space. By partnering with influencers who already have a following in the gaming community, you can tap into their existing fan base and connect with potential customers.
Influencers can create various types of content, such as gameplay videos, reviews, and sponsored posts on social media platforms. When choosing influencers, it's essential to consider their niche, engagement rate, and audience demographics to ensure they align with your game's target audience. Additionally, providing influencers access to your game and allowing them to share honest feedback can help build trust with their followers and generate more interest in your game. Remember that influencers can help players semi-experience your game, especially if you still need to get a demo.
Half-Life: Alyx is an example of a VR game that has used influencers on social media. Valve Corporation partnered with gaming influencers on YouTube and Twitch for promotions. One of the most notable examples was a video by Adam Savage's Tested that generated over 1.5 million views. This influencer marketing strategy helped to make Half-Life: Alyx one of the most popular VR games of 2020.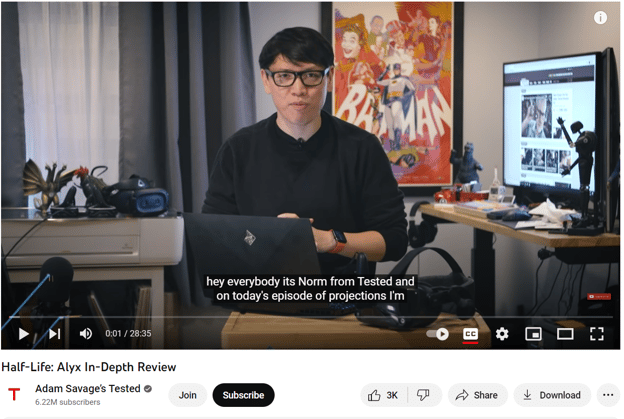 Figure 3: YouTube channel Adam Savage's Tested trying the VR game Half-Life: Alyx. Source: Adam Savage's Tested on YouTube
Additional marketing strategies to consider
Giveaways
Hosting giveaways can be an effective way to create buzz and generate interest in your VR game. You can incentivize people to engage with your social media accounts and attract new followers by offering prizes such as your game or gaming equipment.
Community-building
Building a community around your VR game involves creating a space where players can interact and engage with each other. This can be done through social media groups, forums, Discord channels, or even in-game chat rooms. As a developer in a budding tech niche, you can encourage community building by hosting events, promoting user-generated content, and actively participating in discussions.
Attending gaming events
Attending gaming events is a great way to showcase your VR game to a broader audience and meet potential players in person. You can demo your game, network with other developers, and gain valuable insights into the gaming industry.
Cross-promote
Partner with other VR game developers or gaming influencers to cross-promote each other's content. This helps reach a wider audience and build relationships within the gaming community.
Offer discounts and early access
Offer early access to your game to build anticipation and generate excitement among players. Allow them to provide feedback and make suggestions to improve the game or gear before its official release.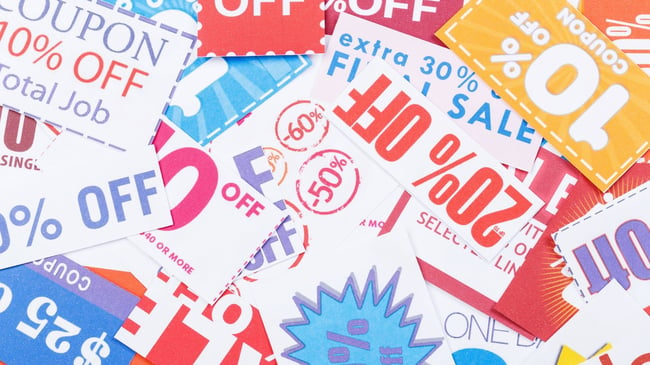 So, what now?
As seasoned marketers in the gaming industry, we understand how difficult it can be to market a VR game. But with the potential for VR gaming revenue, the market is worth exploring. However, it has its learning curve to appeal to potential players to give your game a tryout. Start implementing a variety of marketing strategies discussed above and START EARLY!
Get more knowledge in The Ultimate Guide to Game Marketing: Everything You Need to Know.
---
VR game marketing made easy: let us help you succeed!
If you're looking for an experienced marketing team to help you navigate the VR market, Game Marketing Genie is here to help. We are a full-service marketing agency that specializes in promoting video games, including VR games. We offer various services to help game developers simplify their marketing, attract more players and increase revenue. Try our services today and see the difference for yourself!