Game Giveaways: Why You Need Them for Player Engagement and Retention
by Game Marketing Genie, on 14-Feb-2023 11:27:24
Do you need help attracting and retaining players for your game? Are you falling behind in the crowded gaming market where new games are entering what feels like every other second? Don't let your competitors outdo you! It is time to create competitions like giveaways, a perfect solution to address these bottlenecks.
Did you know that giveaways and contest CTAs have been proven to increase conversion rates by 3.73% compared to other CTAs (source: Peer to Peer Marketing)?
Moreover, digital marketers (45%) agree that social media contests provide them with a positive ROI.
If you have been looking to add some serious zing to your social media marketing, this blog is your guide to starting game giveaways. Plan your next contests, stay ahead of the competition, and boost your player engagement today!
Figure 1: Marketers feel giveaways and contests give positive ROI. Source: P2P
What are giveaways good for?
New player acquisition
Giveaways are a great way to acquire new players. The incentives you offer, such as exclusive in-game items or real-world prizes, act as catalysts to attract potentially interested players to your game.
Giveaways also create buzz and excitement, making players more likely to share the news, resulting in even more new player acquisitions.
Player retention
This tactic is also a great way to keep players engaged and motivated to continue playing your game. For instance, if you offer exclusive in-game paraphernalia as a giveaway, you can create a sense of achievement and excitement for players. This encourages players to stick around and continue playing, increasing player retention.
Player re-engagement
Game giveaways can uniquely engage an audience and stand out from typical brand content on social media. They encourage player interaction with your game through the anticipation of fun and the opportunity to win valuable prizes. Further, statistics by Outgrow say that contests offering prizes worth $1000 or more receive an engagement rate of 5.8% per 100 followers.
Brand awareness
Being part of something exciting leads to increased exposure and word-of-mouth promotion. Encouraging players to share their experiences with others further creates a ripple effect that spreads awareness of the game. These community events also heighten user-generated content, increasing player involvement and making a lasting impression on the participants and their networks.
Player loyalty
Having many players is excellent, but they'll only benefit if they actively engage and feel connected to your game. With a contest, you can introduce your game to players who share similar interests and want to start conversations about your game or genre.
Gains player data
Players may be hesitant to share their information, but the incentive of a prize can quickly change that. Implement a standard entry form that sends a confirmation email to all participants, and make sure to include an option to unsubscribe at the bottom of the email. This way, you can gather a list of players who are interested in your game and have a way to keep them updated on future developments and promotions.
Encourage social sharing
Free-of-cost social media promotions are one of the biggest benefits of giveaways for indie game studios. A study of 140,000 contest entrants revealed that 94.46% of users immediately share the promotion after registering. Out of these participants, 62.13% recommend the promotion to a friend by sharing it with them. Hence, players hyping your game on social media platforms can lead to social proof for your game and more tryouts.
Figure 2: Giveaways increase social sharing. Source: Easypromos
How to create giveaways that drive the right traffic
1. Choose a goal
Goal setting is the first step before creating any contest strategy for game marketing. Setting a primary goal for online giveaways will assist you in determining the success of your giveaway and measuring the results. So, consider this: What do you hope to achieve with your giveaway contest?
For example, you could hold a giveaway to:
Increase brand awareness and sales.

Improve user engagement.

Increase traffic to your website.

Increase email subscribers.

Collect user-generated content.

Increase social media followers.

Create buzz around a new release or in-game reward.
A clear goal will help create a giveaway campaign that drives it and make assigning performance metrics easier.
2. Pick a prize (and make it relevant to your audience)
Think: "what will act as honey to the bee?". It is vital to choose a high-quality prize to create a viral online game giveaway contest that attracts new followers and numerous entries. The giveaway prize should attract players and be relevant to your game or brand and something they may aspire to possess.
Some of the prizes that players find interesting are:
Game keys.

Game tech (PC, keyboard, console, headphones, etc.).

In-game currency.

Branded merch/gift bags.

Exclusive in-game items.

In-game content (i.e., a character/skin that hasn't been launched yet).
Figure 3: Game giveaway prizes must entice players. Source:
League of Legends
3. Determine the rules
Establish clear giveaway rules to ensure a fair and successful social media contest for your game. Include:
Entry rules: Specify who can enter and if there are age or location limits.
Start and end dates: Define the duration of the contest.
Giveaway entry methods: Detail how players can enter the giveaway and how often they can do so.
How the giveaway winner will be chosen: Decide on a strategy for picking the winner, such as a random draw or vote.
Also, consider setting rules around contest information sharing and using any content generated by participants. Clear rules ensure a smooth and effective contest and help prevent any misunderstandings or confusion among participants.
4. Create a way to enter
Align your entry methods with your goals to make your contest effective. For instance, if your goal is to grow your email list, make email entry a requirement.
There are several options for players to enter giveaways, including:
Submitting their email address or signing up for a newsletter.

Following your social media accounts.

Liking or sharing the giveaway post on social media.

Leaving a comment or rating on your website or social media post.

Completing a survey or answering a question related to the game.

Making a purchase or using a promotional code.

Referring friends to the giveaway.
Pro tip: Consult with your social media platform before setting up entry actions. Some platforms, such as Facebook, prohibit asking participants to like and share the giveaway contest in their terms and conditions.
5. Promote your contest
Maximize your contest's potential by promoting it extensively — the more people that participate, the better. Give participants in your promotion extra chances to win for referring new entrants; this will increase their loyalty and encourage social media sharing. It is also an excellent strategy for viralizing your promotion. Additionally, you can partner with gaming influencers and streamers to leverage their marketing skills and reach.
Ways to promote your contest:
Send an email blast to your list and inform them about your contest and where to sign up. This email will probably have the highest open rates you've seen so far.

Promote your contest on all social channels and online community pages.

Promote your contest on your website or blog by creating a banner, using a Hello Bar, or writing a blog post outlining the rules and other details.

Launch an ad campaign if you're planning a significant contest and want to get the most out of it.

Use a platform like Gleam.io that allows businesses to run and manage interactive marketing campaigns, including giveaways, sweepstakes, and contests. It provides a wide range of customizable actions for users, such as social media sharing, email subscriptions, product reviews, and more.
Figure 4: Screenshot of the online tool Gleam. Source: Gleam
6. Monitor your results
It is crucial to track the results of your online giveaway contests to see what worked and what didn't. Analyze factors such as the number of entries, engagement, and conversions. This information will help you make informed decisions for future contests, leading to better results and increased success. You can build a strong brand and grow your audience by continually monitoring and improving your giveaways.
Want to know the key metrics you should be tracking for better-performing campaigns? Read more in 10 Essential Metrics to Track in Digital Game Marketing Campaigns.
Types of giveaways
Like and share this post
A straightforward giveaway that requires participants to like and share the post to enter.
Follow and tweet
Participants must follow your account, tweet a response, or retweet the posts to enter the game giveaway. Check out the post from Halo below, where they have created a post of this type of giveaway for their followers on Twitter.
Figure 5: Set rules for a fair game giveaway contest. Source: Halo
Tag three friends
Encourages participants to spread the word about the giveaway by tagging friends in the comments.
UGC
Participants create and submit content related to the game, such as fan art or short video clips. The winner is decided based on the best entry.
Hashtag contests
Participants use a specific hashtag to enter, with winners chosen based on the creative use of the hashtag or the popularity of their post.
Trending product giveaways
Participants enter for a chance to win by submitting their information. One winner is chosen randomly and given a product that is trending at the moment. For example, big-ticket items like popular games and Nintendo Switches, are incredibly desirable, generating many entries.
Figure 6: Giveaway trending goodies to participants. Source: Crazy Mario Bros
Photo/video contest
Participants enter by submitting a photo or video related to the contest's theme. Winners are chosen based on creativity and relevance.
Social sharing giveaways
Participants increase their chances of winning by liking, sharing, and creating engagement with the giveaway on their social media platforms.
Referral giveaways
Participants invite friends to enter the giveaway. The person with the most referrals wins.
Quiz or trivia giveaways
Participants answer questions related to the game or industry to enter. Correct answers increase their chances of winning.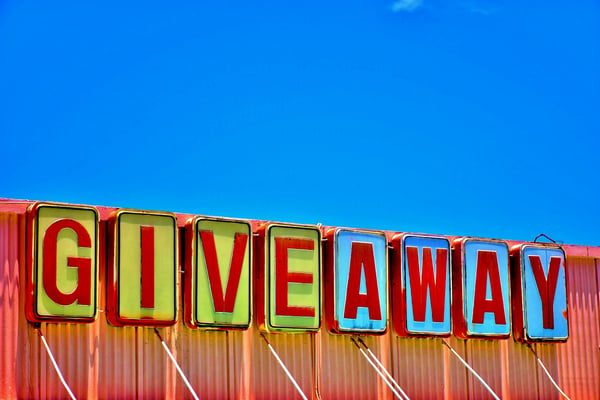 Boost your game!
Transform your marketing plan with our full range of tips in The Ultimate Guide to Game Marketing: Everything You Need to Know.
---
Share the load with Game Marketing Genie!
Maximize your impact in the gaming industry by leveraging the power of social media giveaways, contests, and sweepstakes. With the help of these strategies, you can achieve results quickly, unlike other marketing and lead generation approaches.
Game marketing on social media, like any other type of marketing, requires consistent research and action. Once you know what to do, you must have the willpower to begin and continue doing it to achieve the desired results. We are here to share the load! Do you need assistance advertising or marketing your contest or giveaway? Game Marketing Genie's experts can assist you. Discover the range of digital marketing services available on our website.