10 Best Crypto Ad Networks For Marketing Your GameFi App
by Game Marketing Genie, on 03-Feb-2022 10:38:26
Do you want to grow the revenue for your GameFi app? Then, you need to sign up with the right crypto ad networks that will improve your revenue to achieve maximum benefits.
Crypto ad networks are similar to other ad networks like Google Ads. The only difference is that they only support crypto-related projects. The networks only approve blockchain-related websites and applications such as GameFi apps.
GameFi refers to decentralized applications with economic incentives. They involve users being rewarded with tokens for performing game-related tasks like winning battles or mining precious resources. If you have a GameFi app and want to attract the right traffic to your project, you should monetize your content with crypto ad networks and the right advertising strategies.
In this blog, we will tell you about the best ad networks for crypto NFT games - but please note that these networks are not ranked by anything other than alphabetical order. You will need to do some research to determine which is the best for your brand!
The 10 best crypto ad networks
1. A-ADS
A-ADS is one of the first crypto ad networks to be introduced in the market. It was launched in 2011 and has maintained its reputation as one of the best ad networks for GameFi apps. The network provides clear statistics to help you determine the performance of the ads published on your app. You will be able to understand where most of your traffic is coming from so that you can optimize the ad assets for the best performance.
Figure 1: A-ADS. Source: A-ADS
The network is also very convenient for advertisers. Here, creating a campaign is simple since it takes just a few minutes to complete the whole process. There are many options for adjusting a campaign to improve performance. Clients can also use geo-targeting to appeal to users in specific locations. The platform accepts cryptocurrency payments and offers CPA and CPM bids.
2. Ad Dragon
Ad Dragon is a relatively new ad network that was launched in 2019. The platform is entirely based on Ethereum and aims to provide advertising solutions to businesses that focus on the latest NFT trends. Ad Dragon has witnessed rapid growth since its establishment, mainly because of its innovative ad solutions for both publishers and advertisers. Due to its decentralized model, Ad Dragon has an array of useful tools to launch, manage and track ad campaigns.
The platform is known for providing high-quality traffic to help publishers maximize their ad revenue. The payouts are also very generous, with publishers keeping 95 percent of the income generated. Because of its stellar services, Ad Dragon has grown to become a leading marketplace for crypto NFT games in a short time.
3. Adshares
Figure 2: Adshares. Source: Adshares
Adshares is another incredible ad network for your GameFi app. The network supports blockchain advertising and has been designed to attract high-quality traffic to the ad assets published on the platform. In special circumstances, the network allows direct deals between publishers and advertisers without the involvement of a third party.
Adshares offers unique offers such as low-cost and censorship-free advertising. It also has the capacity to process more than 1 million transfers per second, thanks to the ADS blockchain. The network can effectively target international users, helping advertisers improve their ad reach.
4. Ambire
Ambire is an efficient blockchain-based ad network that mainly focuses on the problems affecting ad campaign performance. Previously known as AdEx, Ambire helps to reduce fraud, optimize campaign budgets and protect user privacy. The network is the Ethereum implementation of the company's open-source digital ad protocol.
It comes with special tools that help advertisers promote their products effectively. The network gives accurate reports for enhanced campaign planning. There are no commissions or fees involved and publishers can monetize 100% of their traffic.
5. Bitmedia.io
Bitmedia.io is a specialized ad network that supplies blockchain businesses with the most relevant crypto audience. The network was launched in 2015 and generates a whopping 1 billion impressions a month. Bitmedia provides advertisers with various targeting options such as device, geo location, timing and frequency.
Figure 3: Bitmedia.io. Source: Bitmedia.io
Bitmedia has strict verification checks to ensure advertisers only receive legit impressions. The network verifies each seller, provides third-party control and manual click and impression verification to ensure advertisers only pay for genuine clicks. The advertising models that are supported by the network are CPC and CPM. The platform uses Bitcoin as its supported currency with a minimum payout of 0.001 BTC.
6. CoinAd
CoinAd is an amazing ad network for connecting crypto-based websites with established advertisers. Its main benefits and features include 100,000+ daily impressions, self-service operation, and multiple ad formats.
The platform is suitable for elite publishers and advertisers but it can also be used for affordable ad campaigns. Clients who use the platform have the authority to refine their targeting by applying filters based on specific times, geographic location, and device. The ROI from CoinAd campaigns is high, thus generating a lot of interest from publishers.
7. Cointraffic
Figure 4: Cointraffic. Source: Cointraffic
Cointraffic is a premium ad network in the crypto and blockchain ad market. It was established in 2014 to serve advertisers and publishers in the crypto industry. It offers a variety of ad formats and tools to optimize conversion rates. All communication within the platform is managed by dedicated account managers who are responsible for your campaign's performance.
Cointraffic offers CPM campaigns, with a variety of advertising formats available to advertisers including banners, native and pop-under ads. The platform is easy to use and supports the seamless withdrawal of commissions. The other advantage is that the ad network is very selective about its advertising partners and very careful when approving advertisers. The minimum withdrawal is €25 and the accepted currencies are bitcoin and fiat currency.
8. CoinZilla
CoinZilla is an excellent crypto ad network that was launched in 2016. The network belongs to the Adselvo industry and focuses on promotion within the crypto market by providing a complete array of digital solutions. CoinZilla manages to provide worldwide exposure to emerging crypto projects to boost growth.
Figure 5: Coinzilla. Source: Coinzilla
The network has promoted more than 200 brands and looks to attract even more advertisers and publishers to help them monetize their presence online. The platform offers lots of custom advertising options not available anywhere and has dedicated managers to help clients set up their campaigns.
CoinZilla supports deposits and payments in Bitcoin, Ethereum and wire transfer. The minimum deposit is €5000, 0.05 BTC, and 0.5 ETH.
9. CryptoAdsManager
CryptoAdsManager is a wonderful ad network that provides advertisers and publishers with a new way to promote their blockchain, crypto and GameFi app projects. The network has a custom set of data that focuses on the crucial GameFi and the crypto audience. It has the power to bypass Google and Facebook bans to reach a wide audience and attract high-quality traffic.
CryptoAdsManager has established itself as the premier crypto ad network because of its integrated targeting mechanisms and remarketing capabilities that help clients reach the right users. The platform is easy to use and doesn't require a deposit to join. The accepted payment methods are bank deposit, PayPal, or cheque.
10. Token Ad
Powered by RTB (real-time bidding) advertising, Token Ad is one of the best ad networks for advertisers. The network, much like the others mentioned in this article, focuses on promoting crypto-based websites and applications. It helps advertisers and publishers to monetize their GameFi apps, websites, blogs, crypto exchanges and ICO rankings.
Token Ad supports various ad formats such as banner ads, standard, and native ads designed to promote your product. The platform is easy to use and only allows crypto content to be displayed on the website. This crypto ad network deals directly with publishers and advertisers from all over the world but tends to boost certain GEO from time to time. The minimum deposit to join the platform is $10,000 and it accepts payment in crypto and fiat currencies.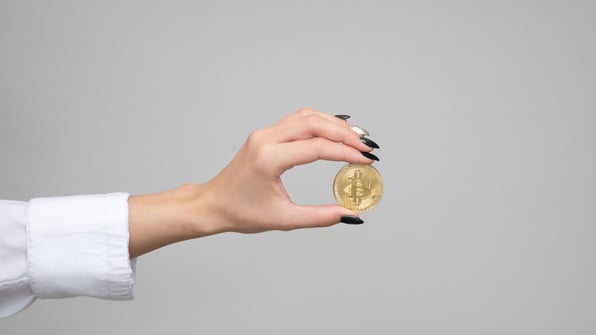 Crypto game marketing mastery
Finding it hard to get your crypto game the visibility it deserves? Get on top of it today with The Top Crypto Game Marketing Guide.
---
Recent trends show that crypto is here to stay. As such, blockchain-based games will become a huge hit as players seek more control over the assets they acquire when playing games. The best game marketing strategies will help you attract many players to your game. When you build a large audience, keep an eye on these crypto ad networks for your GameFi app.
Game Marketing Genie is here to help you find the best ad network for your app. We are a full-service marketing agency and can help you generate more income for your game.
Take a look at our NFT game marketing services to get started.