Steam Vs. Epic Games – Pros and Cons of Both Game Launchers
by Game Marketing Genie, on 22-Sep-2021 10:37:57
For the longest time, people didn't have much choice when buying PC games online. Since its launch in 2003, the Steam game store has completely dominated this space, but that's changing. The Epic Games Store, created by Epic Games, has emerged as Steam's biggest challenger for the crown.
The store was launched in December 2018, and it offers a wide selection of timed exclusives, notable indie titles, and a few AAA games. But which is the better platform for your PC game?
This Steam vs. Epic Games article looks at the key attributes of these games stores to provide you with the information you need to make a good decision.
Steam Vs. Epic: Games
Having been around for the last 18 years, Steam has a larger game library to choose from than Epic. The Steam game launcher has more than 30,000 games that range from major titles to indie games. As such, the platform has something to suit every player's taste. Some of the games you can find on the platform include Monster Hunter: World, Grand Theft Auto, Back 4 Blood (early release), and Naraka: BladePoint.
Figure 1: Steam Games Store. Source: Steam
That said, quantity doesn't always equal quality, and you will undoubtedly find many low quality/almost unplayable games in the store. The varied quality makes Steam almost similar to Google Play Store, where players have more games to choose from, but the hidden gems are easily buried in all the low quality content.
Steam is a haven for indie developers, but they struggle to gain exposure among the competition.
Check out our blog, 7 Insider Tips and Tricks to Marketing Your Video Game on Steam, to learn the best indie game marketing strategies that will help you stand out on the platform.
On the other hand, there are fewer games on Epic, but the quality may be much better. Some of the exciting games you can find on Epic include Assassin's Creed: Odyssey, HUMANKIND, and VOLDTRAIN. The collection isn't as extensive and comprehensive as Steam, but the games are of higher quality, with fewer broken and unfinished titles. Epic also has the willingness to pay for timed exclusives, and for some time, the Epic Games Store was the only place to play Metro Exodus and Borderlands on PC.
Figure 2: Epic Games Stores. Source: Epic Games
So, when it comes to games selection, you should choose Steam if you want the widest range of options. But if you want a curated selection of games, you should go with Epic.
Who's the winner?
Variety of games: Steam
Quality of games: Epic Games
Steam Vs. Epic: User interface
When it comes to the user interface, both stores have a relatively clean layout. However, the Steam game user interface has more features, elements and tags.
This also applies to its game library. Steam pairs the library with a games newsfeed to provide more information to the users. The downside of this move is that it makes the library very cluttered and difficult to navigate.
Figure 3: Steam newsfeed. Source: Steam
Steam also has a robust recommendation engine that suggests the titles you should try. You can read reviews, follow specific curators, or browse forums as you choose the games to play. As much as all these extra features help improve your shopping experience, they mess up the aesthetics and make the platform look cluttered.
In contrast, the Epic Games user interface features a minimalistic UI that's easy to navigate. When you click on a title, it launches, updates, or installs the game. The newsfeed is on the user's home page, making the library simple and easy to use.
Figure 4: Epic Games Store UI. Source: Epic Games
Since both platforms have modern layouts, the appeal for each storefront's user interface comes down to personal taste. However, judging by their ease of use, the Epic Games platform emerges as the winner.
Fewer tabs, dropdown menus and features make Epic's UI user-friendly, whereas Steam can be overwhelming for those using the platform for the first time.
Who's the winner?
Ease of access: Epic Games
Detailed user interface: Steam
Steam Vs. Epic: Store features
Besides their game selection and user interface, each storefront has different strengths when it comes to store features and perks.
The Steam game store features include an enhanced recommendation engine that helps players find the best games to play. Users are presented with a curated list of game recommendations when they browse the platform.
Figure 5: Community recommendations. Source: Steam
Steam also provides mini-games for sale and has a marketplace for in-game collectibles. Community members can leave a review after playing a game, thus offering valuable feedback that helps new members gauge a particular game's quality. However, this makes the system vulnerable to review bombing where members leave false negative reviews just to hurt a competitor.
The Epic Games launcher download also has some fantastic offers for its users. The Epic Games Store features include limited-period offers on specific games that allow users to download them for free. Some of the big titles that have been offered for free to players include GTA V, Batman Arkham, and Alan Wake.
The store also emphasizes exclusive releases where they partner with developers to release their games on Epic before they are available on other platforms.
But, even with all these features, Steam still has the upper hand because of its experience, its ability to make better recommendations, and allowing users to sell and collect items.
Who's the winner?
Steam Vs. Epic: Social features
Both the Epic and Steam game stores have amazing social features like chat functionality and the ability to create a friend's list. However, Steam wins this category because it has considerably better social features than the Epic Games launcher platform.
The Steam game launcher download allows users to create profiles, make posts, and share media. The platform also gives recommendations based on what your friends are playing and allows users to invite their friends to games, groups, and message boards.
Figure 6: Steam Forums. Source: Steam
Steam's forums are another impressive feature of this game store. These are discussion forums that allow users to share their views on specific issues and interact with players. Users can post questions in a forum to get help from other members. New members should join the New to Steam discussion forum to learn about the platform's features and find friends to play with.
Epic's social features revolve around the chat and your friends' list. Users can create a profile and invite their friends to play. Another notable benefit of the platform is that it offers cross-platform support. As such, you can invite your friends to play even when they are using a different platform.
Developers looking to implement social aspects into their games should consider publishing them on Steam to take advantage of its impressive social capabilities.
Who's the winner?
Steam Vs. Epic - Pricing model and revenue split
While price is an important factor for many players, how many of us think about the money that gets to developers for their amazing creations? So how do these two platforms compare regarding their prices and revenue split?
On price, we have something of a draw since the stores use different pricing models. Steam has more local currencies to choose from, so their prices are reflective of the local market. On the other hand, Epic uses a standardized conversion model where users pay the dollar equivalent of the cost of games in their local currencies. In this scenario, games end up being cheaper in certain regions, but Epic sometimes sets its regional price differences.
With this information, it's difficult to tell which store has better prices for gamers.
Figure 7: Epic games revenue split. Source: Epic Games
If you consider the fact that Epic gives away free games from time to time, then perhaps it is better for gamers. But in terms of revenue split, it definitely has a better deal for developers. The store has a generous revenue split of 12/88. This means developers keep 88 percent of the revenues earned from their games. Furthermore, devs who use the Unreal engine get to forgo the 5 percent royalty fee that Epic charges when the games are published elsewhere.
On the other hand, Steam's revenue split ranges from 30/70 to 20/80, depending on sales. The 20/80 split comes into effect when a game makes more than $10 million.
Who's the winner?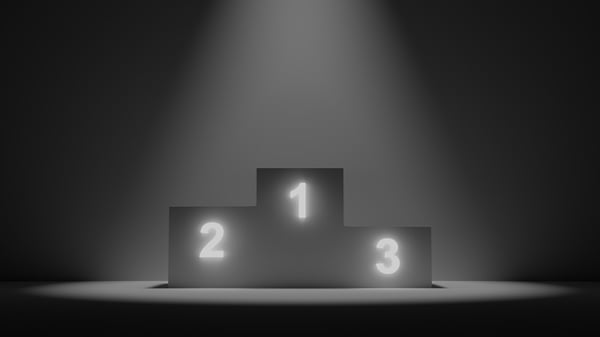 Get your game on with our game launch guide!
Enjoyed this article? Want to know more about launching a game? We've got much more to share with you in The Game Dev's Guide to the Best Game Launch!
---
Our Steam vs. Epic comparison shares the things you should consider when choosing a platform for your game. It isn't easy to choose a winner since both platforms possess unique advantages that make them the perfect choice to host your game.
Get advice from a game marketing agency as you decide which of these factors are essential to your business. The team at Game Marketing Genie have experience with both platforms, and can help you choose the right one for your game. Let us know in the comments section what you think about the two game launchers.
Get in touch for the best strategies to make your game popular with players.